17 Jan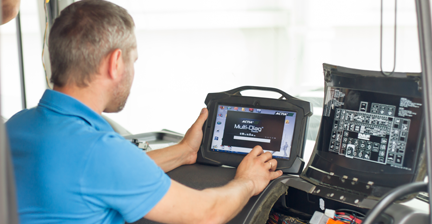 At our service station you can get the services of a qualified electrician. Our specialists will find quickly and professionally eliminate faults in electrical equipment of your vehicle or trailer. High quality of diagnostic board systems of trucks, trailers and buses is provided by automotive diagnostics ACTIA MULTIDIAG.
Product Features:
Reading and erasing fault codes (DTC);
Reset service reset interval ;
Clutch Education (MAN FFR, FR MB, Renault TECU, and VOLVO TECU);
Training of new pedals (MAN FFR);
Adjustable suspension (ECAS, ELC, HM, NR);
Calibration of the brake pads (VOLVO TRUCKS)
Adblue systems diagnostics (Mercedes, VOLVO, DAF, IVECO)
Setting the brake pressure;
Calibration of the air pressure in the system;
and much more.
Supported makes and models:
DAF (65CF, 75CF, 85CF, 95XF, CF 65, CF-75, CF 85, LF, XF105, XF95);
IVECO (EUROCARGO, EUROFIRE, EUROMOVER, Eurostar, EUROTRAKKER, STRALIS, TRAKKER);
MAN (F2000, F90, G90, L2000, LE, M2000, M 90, TGA, TGL, TGM, TGS, TGX);
Mercedes Benz Trucks (Actros I, Actros II, Atego I, Atego II, Axor, Econic, LK, MK, SK, U 20, U 200/300, Zetros;
KENWORTH, MACK, INTERNATIONAL, PETERBILT, GM, FORD;
Renault (G Serie, Kerax, Kerax DXI, MAGNUM, MAGNUM DXI, MIDLUM, MIDLUM DXI, PREMIUM, PREMIUM DXI, R Model);
SCANIA (113114, 124143, 144, 164, 93, 94, G230, G270, G310, G 340, G 380, G 420, 470 G, G480, P-series, R-series);
VOLVO (F10, F12, F16, FE, FH, FH12, FH 16, FL, FM 10, FM 12, FM7, FM9, VOLVO USA Model);
Trailer systems: WABCO ECAS, HALDEX, Knorr-Bremse, VCS-2, WABCO VARIO C, WABCO VCS, WABCO VCSII;
HALDEX EB +, WABCO EBS);
Askam, AVIA, BMC, Nissan Atleon;
Buses: IVECO, BOVA, MAN, MERCEDES, RENAULT, SCANIA, SETRA;
And many others.

Our technicians use professional tools and high quality materials manufactured by Wurth German company, they are equipped with the technical documentation and wiring diagrams.